10 Most Promising HP Solution Providers-2016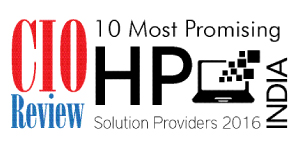 According to Grand View Research, Inc., the global system integration market is expected to grow USD 393.10 billion by 2020. As system integration market is evolving with the proliferation of technologies, the momentum of its adoption has increased by the countries like China, India, Japan and Australia of APAC region.
The global acceptance of system integration is getting accelerated by various factors. The adoption of advance technology solutions associated with big data, analytics and mobile domains, has played a significant role in the system integration market. These solutions disclose wide opportunities to those system integrators. Besides, the emergence of cloud computing and the relevance of the virtual technology have brought a remarkable growth in adopting system integration.
In system integration realm, HP, one of the leading companies in Indian IT ambience, has developed and rendered a colossal amount of hardware components as well as software and related services to consumers, small- and medium-sized businesses (SMBs) and large enterprises across the world. The end users of its solutions represent various sectors including government, health and education etc. The company promotes its product portfolio through a number of authorized vendors. Through its specialised partnership programmes, HP aids these vendors to expand their market reach. Additionally, HP helps these vendors by facilitating their HP certification timely while improving the bottom line of their business. While succouring these vendors, HP helps its customers around the globe to transform their IT infrastructure.
The enterprises today need active participation and assistance from the vendors to fulfil their requirements including infrastructure improvement, virtualisation and the consolidation of data centres and applications. With the support of these vendors, enterprises are aiming to accomplish higher performance as well as productivity while lowering cost. Therefore, organizations are looking for a suitable vendor who offers in-depth analysis of their enterprise system integration needs.
Today's advanced system integration technology reinforces enterprise top management for flexible, integrated as well as real-time decision-making. We at CIOReview understand how to succour the C-level executives with respect to their enterprise system integration requirements. Therefore, CIOReview brings to you a list of "10 Most Promising HP Solution Providers" to help you choose the most suitable vendor who has outstanding technical adroitness and hands-on experience. A distinguished panel comprising of CEOs, CIOs, industry analysts and CIOReview editorial team have scrutinized various companies before finalizing these vendors who offer distinguished services to the system integration market.
We present to you CIOTechOutlook 10 Most Promising HP Solution Providers-2016.
| | |
| --- | --- |
| Bodhtree | A provider of vertical specific solutions to address key business challenges in hi-tech, manufacturing, healthcare and education by leveraging HPE products. |
| Capgemini India Pvt Ltd | A provider of Testing and Quality Assurance solutions with the partnership of HP and offers consulting, technology, outsourcing services and local professional services |
| CloudAce Technologies | A provider of B2B Consulting, Implementation Services on Cloud Computing, Big Data Hadoop & Salesforce, Cloud Services, IT Security Solutions, IT Storage solutions, Data Center Solutions and... |
| Cognizant | A provider of server storage and network groups to enable collaborative delivery of comprehensive services pertaining to HP products |
| HCL Technologies | A provider of infrastructure solutions around business transformation services, technology transformation services, the HCL MyCLoud offering, analytics and big data solutions, enterprise quality... |
| Infonet Solutions | A provider of system integration services and offers IT Solutions and Services to Telecom, Banking and Financial Services, Insurance, HealthCare, Retail and Government organizations |
| Mcafee India (Intel Security) | A provider of integrated security solutions from Hewlett Packard Enterprise (HPE) and Intel Security solutions. HP Endpoint Protection Services include technical consulting and managed security... |
| Precision Infomatic | A provider of HP product lines which are combined with the necessary solution architecting and implementing capabilities, the requisite support expertise and an effective service delivery methodology. |
| SHRO Systems | A provider of business and technology consulting, application services, systems integration, custom software development, maintenance and IT infrastructure service |
| Skylark Information | A provider of cost effective and scalable solutions by integrating different IT components of Hardware and Software from various manufacturers . |